Kayak The Deepest Fjord Lake On Earth
There is only one deepest fjord lake on earth and it's here in the Cariboo Mountains!

Over 2300 feet deep at its deepest point with over 360 miles of shoreline and overall length of over 80 miles, this natural wilderness lake is the heart of the Cariboo Mountains. A tri-armed glacial made lake, it is rich with wildlife, birds, rare ecosystems including rare ancient cedar hemlock rainforest and spectacular mountain scenery. You will feel the freedom and exhilaration just like historical explorers, Jules Quesnel and Simon Fraser's early 1800's journey, as you breathe in the fresh pure mountain air and paddle the deepest fjord lake on the planet.

A most exhilarating incredible and amazing paddling adventure. With the magnificent Cariboo Mountains as your backdrop explore along the 360 miles of shoreline ranging from the rare ancient interior rainforest to the high craggy walls of the lake's east arm where mountain goats balance precariously above the clear deep waters.

Watch grizzlies and black bears amble along the shores in search of fish, delectable berries, juicy plant treats and other bear delicacies. Watch for moose, mountain caribou, deer, wolf, ottersand a huge variety of birds including eagles, osprey, loons and other waterfowl, kingfishers and songbirds. Explore the rare ancient interior rainforest with trees over 1000 years old.
The lake also hosts a unique strain of large rainbow trout providing worldclass fishing and one of the largest sockeye salmon runs in the province. It's a magical nature lover's dream adventure!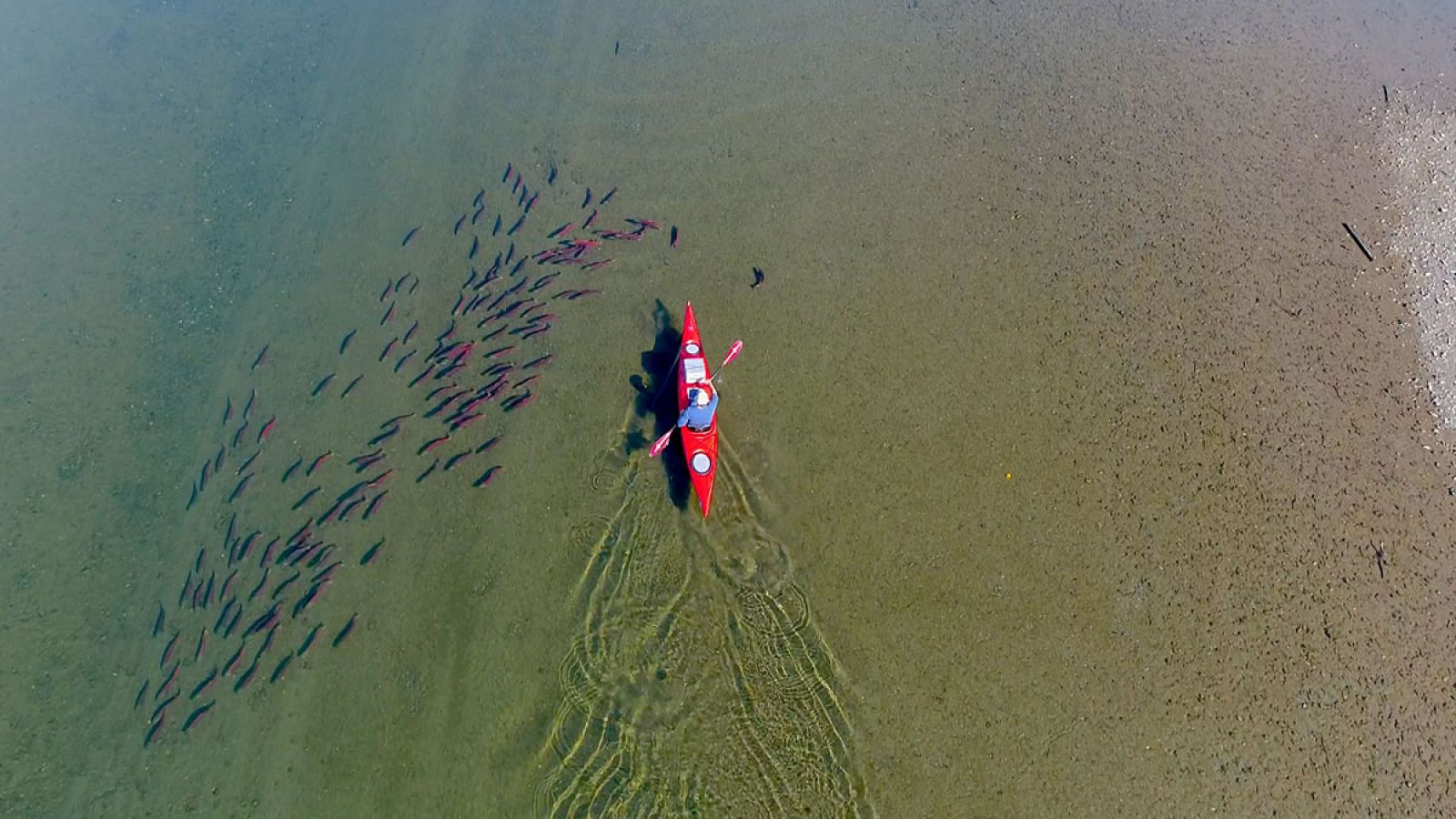 What an adventure!


An exceptional paddling adventure awaits you in the heart of the Cariboo Mountains on this iconic lake of unbelievable beauty. This kayaking tour is about thrilling adventure, peaceful serenity on the water, memorable moments in nature and lifetime memories.

Our professional certified guides ensure your safety on the water, and will see you safely through with expertise, caring concern and good humor as you enjoy their stories and extensive knowledge of the history, ecology and flora and fauna of the region.

Photo : Robert Moberg films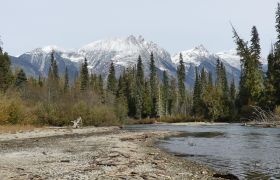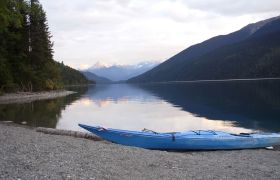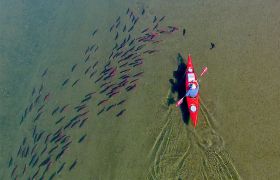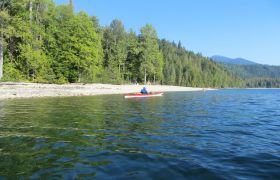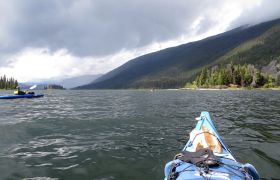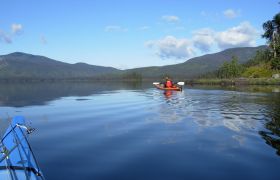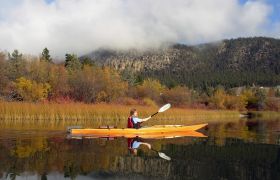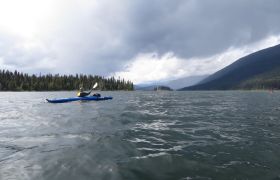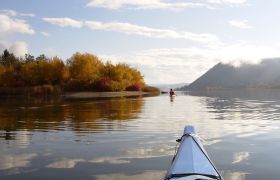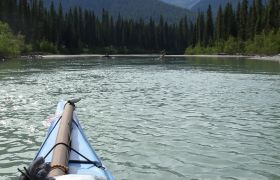 Come and experience a Canadian wilderness adventure like no other. We provide the kayaking equipment for your tour whether it is a one day or multi-day adventure. On multi-day tours you will camp out on one of the lake's beautiful beaches where you will be treated to our own hearty campfire cuisine.
Multi-day adventures can be as short as an overnight paddling trip or as long as 7 days or more as you explore the length and breadth of Quesnel Lake and its natural history. Come and experience a wilderness adventure like no other!
Trip Highlights
Amazing paddling with plenty of shoreline adventures
Explore the rare and ancient interior rainforest with Western Red Cedars over 1000 years old
Shoreline wildlife viewing - watch for grizzlies, black bears, moose, wolf, Mountain Caribou, and other shoreline and mountain dwellers
Forest Therapy – Seeing With The Eyes Of The forest – connecting you with nature with all your senses brings a sense of balance, wellbeing, re-invigorating body and soul and creating a true sense of peace and serenity

Walking safaris in a rare ancient rainforest and alpine hiking opportunities exploring the ecosystems from wetlands to alpine
Birding – With over 250 species of birds in the Cariboo Mountains it's a very diverse area for birds of prey, water and shore birds to forest dwellers - eagles, osprey, herons, cranes, swans, merganzers, Dippers, thrushes, and more. Listen to the haunting call of the loon.
Magnificent mountain scenery with rugged snow capped peaks and glaciers
Come and experience a wilderness adventure like no other.
Explore the diversity of this huge inland lake created eons ago by glaciers, with its numerous bays, peninsula's and waterfalls. Composed of three arms, fed by numerous rivers, creeks and streams, the north and east arms are the gateway to magnificent beauty of the rugged Cariboo Mountains while the west arm, a significant part of the Cariboo gold rush, provides the outflow to the Quesnel River, the salmon highway.


| | | |
| --- | --- | --- |
| The Quesnel River, a direct link to the Fraser River provides access to British Columbia's prime spawning waters for Sockeye, Chinook and Coho salmon. The north arm, surrounded by rugged mountains over 2500 meters, some topped with glaciers is home to Ecotours-BC's Glamping lodge and gives access to one of the most important and remote salmon spawning rivers. | | The east arm, much of it with sheer rock walls where Mountain Goats can often be seen, the most rugged and remote section of the lake. At the end of this arm you find our own Niagara Falls where the green glacial waters of the upper Niagara Creek and Lunn glacier tumble over 270 feet into the lake. It's a truly Canadian wilderness and magical nature experience. Don't miss it! |
| Download Trip Details | | Enquire About this trip |